Naturist beaches in Morbihan
The closest beach to the campsite,

* Kerminihy beach, in the town of Erdeven, is located 5 km from the campsite. It is accessible by car by road but also by bicycle via cycle paths and hiking trails.


* https://www.etre-naturiste.com/cent...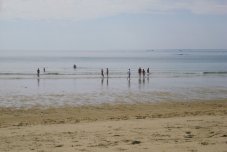 From the campsite, by car or by bike, go to the Town Hall of Erdeven. Pass behind the town hall taking on the left. Go past the florist. After the bend, take the 2nd street on the left (there is a road sign indicating Plage de Kerouriec. Continue straight. When you reach a white and red portico, continue on the right. When you see a statue of a green hand , do not turn right but continue your road following the sign "La Roche Sèche" (wooden sign). You will come to a car park The first entrance to the naturist beach is number 9.

* Plage des Kaolins, near Lorient.

* Bangor Beach (Belle-Ile)

* Plage de Kerjouhano or Kerver (St Gildas de Rhuys)